---
Covenant's Children's Ministry
Children hold a special place in our church family. We want them to be seen, get involved, and get to know people of all ages.
Infants (6 Weeks) TO Pre-K
On Sundays, loving nursery care is available throughout the entire service for infants, toddlers and Pre-K. Our nursery staff are consistent, experienced, CPR-trained, and background-checked so you can be sure that your little ones are in excellent hands.
K-5th Grade
Elementary-aged kids begin and end worship with their families as at Covenant we believe it's important for kids to gradually learn to participate in "big" worship. During the sermon time, the kids will be dismissed and escorted to The Cove for a special time of fun, discovery, and learning. There they will gather with other students their age so they can learn about God's word at their own pace and level.
---
Partnering with you
We understand that kids have different needs. If your child prefers to remain with you during worship, he or she is welcome to do so.
We'll be happy to discuss any special concerns regarding your child. We're eager to partner with you in your child's success at Covenant.
---
What to expect your first time with us
First, visit our COVkids check-in desk. There we will meet your family, enter your child into our system, and answer any questions you may have.
Upon checking in for the first time, we will ask for the following personal information (NOTE: We value your privacy and will not share this information with anyone):
Parent/guardian name(s)
Child's name
Child's birthdate
Home address
Phone number
Any special instructions (allergies, special needs) for your children
---
How check-in works
Infants, Toddlers & Preschool
Before Service
You will check-in at the COVkids desk to receive both a printed nametag and a security tag.
Verify the phone number listed on the nametag as we will use this number to text you during service if necessary.
Place the nametag on your child's back and keep the security tag with you for pick up.
After Service
Upon pick-up, show your security tag to the childcare worker at the front desk.
Room Assignments
Infants (6 weeks-24 months) • Room 1
Toddlers (2-3 years old) • Room 4
Preschool (4-5 years old) • Room 5
K-5th grade
Before Service
All K-5 children who plan to participate in COVkids MUST check in at the COVkids' desk.
During Service
K-5 children will start in worship with their families and will be dismissed to COVkids during the worship service.
Adult helpers will escort them to The Cove for assembly and class time.
K-5 children will return to their families for the conclusion of the worship service.
Please ensure your child uses the restrooms in the Commons before service. We have limited time with the children and want to make the most of our time together.
Room Assignments
K-2nd grade • Room 2
3rd-5th grade • Room 3
---
Indoor Playground
Our indoor playground is open between services on Sundays.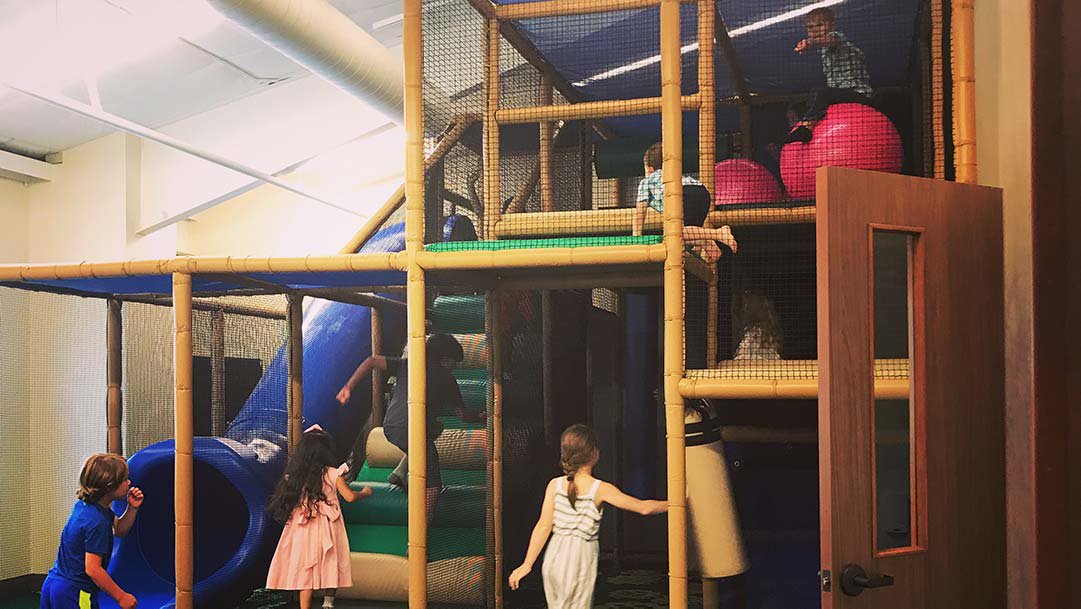 ---
Got questions?
If you have further questions or comments concerning our CovKids experience, or if you'd like to volunteer with us, simply fill out the form below.
During the course of events/activities at Covenant Methodist, pictures and/or video of you or your child may be taken. Covenant reserves the right to use such media at our discretion for print/digital promotion of the church and church-sponsored activities. We do not sell your information to third parties. If you wish to withdraw your consent for media use please email our COVkids Directors at Covkids@covenantconnects.org to opt-out.
---
Volunteering with us?
If you're already on the COVkids CREW you can check your schedule and sign up for specific dates at Church Center.