---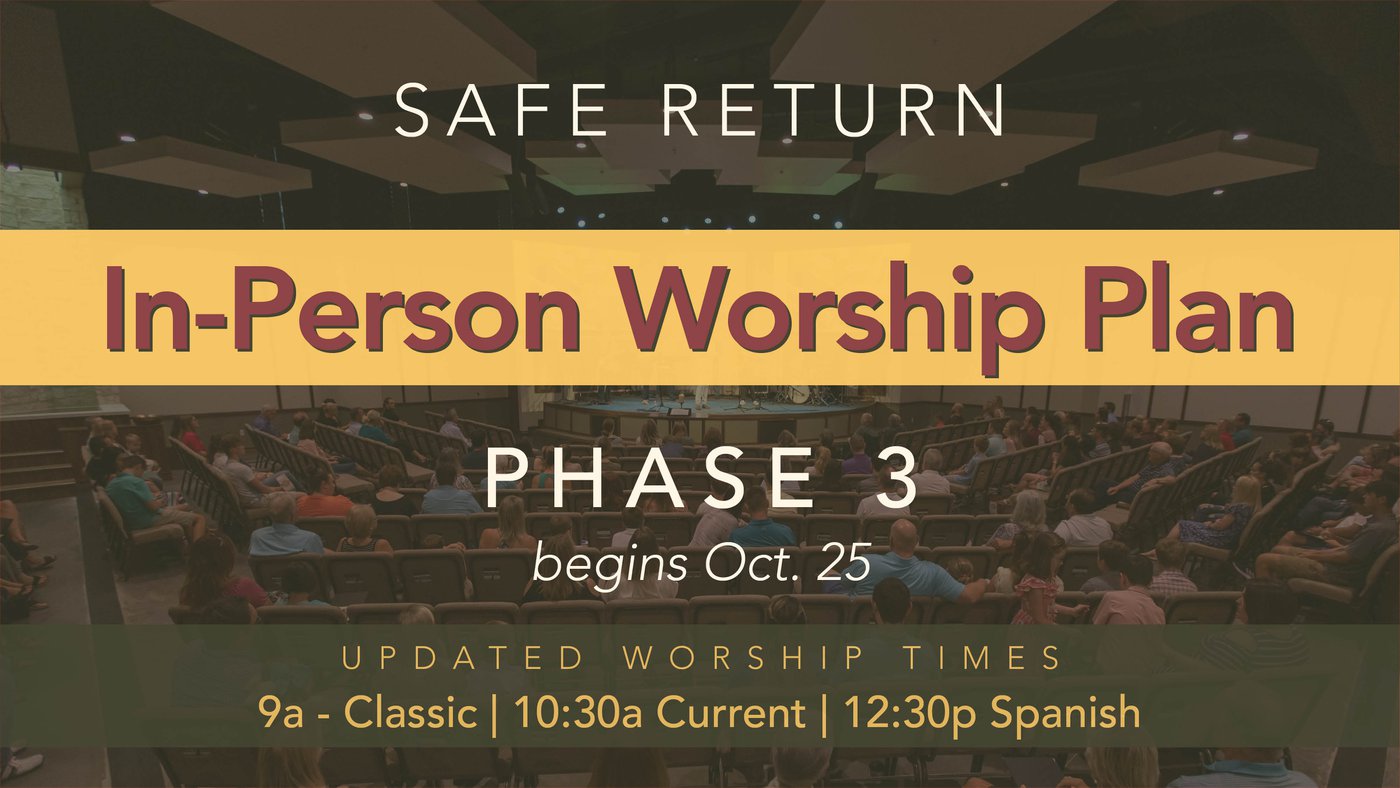 Returning to In-person Worship
Phase 3
Social distancing continues to serve as a valuable tool in slowing the spread of COVID-19 and we are committed to doing our part by continuing social-distancing and recommended safety protocols. Covenant's Phase 3 worship schedule will change to provide transitions that do not overload the capacity of the Commons and to allow for disinfecting.
NEW WORSHIP SCHEDULE (as of October 25)
9a - Classic
10:30a - Current
12:30p Spanish
Our priority remains safety through "No-Contact" worship.
While physical contact is an essential part of human connection, for a season it will be limited at Covenant to the boundaries of our family units. In order to provide the safest worship environment possible, Covenant will create a worship experience with no contact. We are committed to providing a space for you that allows no contact with other individuals or shared surfaces that have not been disinfected—from the time you exit your car until you return to your vehicle.
We are looking forward to seeing more people returning to worship in the building. However, if you feel uncomfortable returning to public gatherings and/or you are at higher-risk for the most dangerous effects of COVID-19 (65 years of age or older, especially those with chronic lung disease; moderate to severe asthma; chronic heart disease; severe obesity; diabetes; chronic kidney disease undergoing dialysis; liver disease; or weakened immune system) we encourage you to continue worshiping with us via live stream.
Below we have provided the key details of our Phase 3 plan so that you can personally assess the precautions Covenant is taking, and consider the right time for you to return to worship. When that time comes, we ask that you wear a face covering while on campus for the protection of those around you. We are all trying to respond faithfully and responsibly, and we respect and honor your effort to do the same in your decision-making process.
---
What should I expect in Phase 3?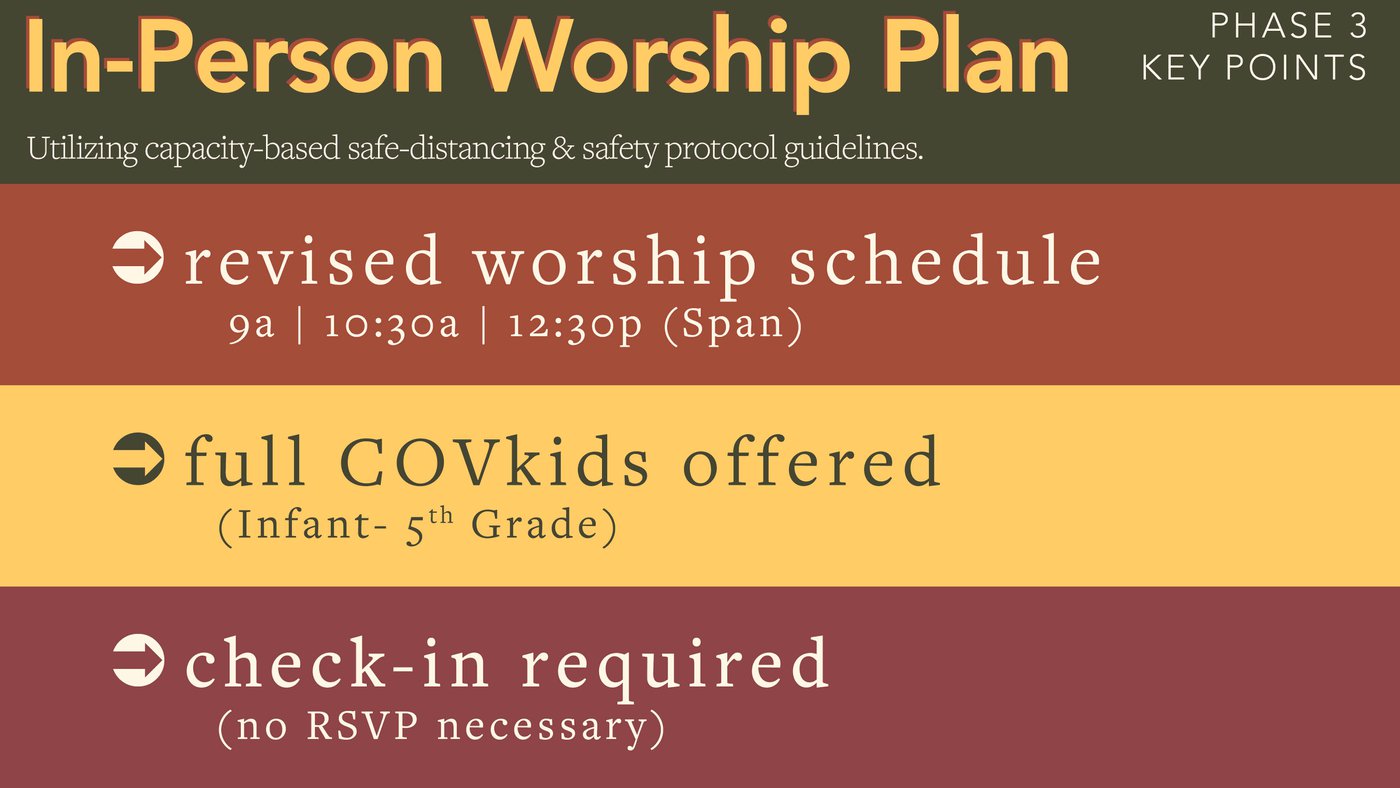 Our Cleaning Protocol continues...
Chairs will be disinfected between services.
Hand sanitizer will be available at 3 stations in the building.
Door handles will be disinfected between every service.
Masks will be made available for any member wishing to wear one (volunteers and staff will be required to wear masks.)
---
Some things you should know
A table will be set up on the front porch to check you in for worship. (We will no longer be taking RSVPs.)
Front door greeters will be required to wear gloves to open and close doors.
Contrary to our normal practice, there will be no hugs, handshakes, or high-fives when greeting.
Ushers wearing gloves will open doors as needed throughout the service.
We will not be passing Connection Pads. Please use the Church Center app to check-in your family. (This will save you time at the Check-in Table).
If you're new to Covenant, please use our Plan-a-visit form to fast-track your check-in.
---
Children's Ministry
COVkids is open in-person for infant-5th grade
Elementary students will start and end in worship with their families. We will verbally dismiss them to The Cove before the sermon.
COVkids will continue to release a digital lesson on Sunday mornings for those families still worshiping from home.
The indoor playground will remain closed.
If your child has never been to COVkids before, pre-register here to save time.
---
Restrooms
Restrooms will have a paper towel or wipe dispensers installed to provide covering for handling stall doors.
Restrooms will have foot-openers to further limit contact with restroom door handles.
---
Refreshments
Donut holes in pre-packaged servings will be available.
---
Communion & Baptism
Communion will be offered with different element options.
We will serve communion to individuals and families at their seats.
Communion stewards will be required to wear gloves.
Altar kneelers will be returning to our worship space. Please social distance at the altar.
Baptisms will be offered upon request with the understanding that touch is required to perform the sacrament. If you would like to schedule a baptism, please complete this request form.
---
Before you leave home...
If you have reviewed the plan and precautions Covenant is taking and you are ready to return to worship with us, we ask you to walk through the following steps prior to each service:
If a member of your family is not feeling well, stay home.
Take everyone's temperature that will be attending service at home before worship. If any member of your family has a fever, stay home.
If you will be in contact with high-risk populations in the 48 hours following worship, please consider the risk to their health before attending.
---
Questions or Concerns?